PSTN and WLR lines have formed the infrastructure for our telecoms
Particularly analogue lines which have been around since telephones where first used in this country! Old age comes to us all and it is time for these faithful lines to be retired to make way for fully digital communication via the internet. With only 4 years to go, information about the switch-off is everywhere, so you may be forgiven for thinking that  Openreach's announcement to switch-off the PSTN is relatively recent. In reality it started 5 years ago in 2017 and it is going to be a gradual switch, with the purchase of these legacy lines being phased out as we approach the deadline.
The Switch-Off Timeline
Openreach  announced the switch-off and set 2025 as the target date for all PSTN services to be retired. Transferring voice calls to an internet-only system obviously relies on decent connectivity so the next step was for Openreach to pledge in 2018 to improve their network in order for fibre broadband to become more accessible. The 5 year countdown started last year with Openreach releasing a reminder about the switch-off, to ensure businesses started to take action. By 2023 new supply of wholesale line rental (WLR) will no longer be available, as it will be defunct when the switch-off happens. If everything goes to plan, PSTN services will be completely turned off and no longer operating by 2025.
So, what does the switch-off mean to business telephony and more importantly, how is it going to have an impact on your business? In short, if you're still relying on traditional PBX telephony, which runs on analogue PSTN services rather than the internet, you will need to look into switching to a VoIP (Voice over Internet Protocol) telephone system. Don't worry though, we're here to help! Whether you're looking to research your options or this entire topic is completely new to you and it's the first time you've heard of the PSTN – we have everything you need to know in this article. By the time you've grabbed a cuppa and made your way through this article you will know:
What the PSTN is
What they're going to be replaced with
How the switch-off will affect you
5 key steps to prepare your business for the switch-off
So without further ado, let's learn about the PSTN switch-off and the steps your business can take to prepare!
What is the PSTN?
PSTN stands for Public Switched Telephone Network. Within this network we have the traditional copper wire telephone system, which was originally set up for analogue voice communication. In the late 1980s ISDN (Integrated Services Digital Network) was introduced within the PSTN. As you may have guessed by the name ISDN lines are a digital version of the traditional analogue phone line, which allows the transfer of both voice and data over PSTN copper wires. . In terms of age, you can split up telecommunication infrastructure into generations. Traditional analogue copper PSTN phone lines are  the oldest, so let's call them the 'boomer' of the phone lines. It uses the same principles, as the first ever public phone network, where analogue voice data flows through circuit-switched copper phone lines. ISDN was introduced in the late 1980s, so we can consider it as the 'millennial' of the telecommunications infrastructure world. In general, due to the nature of how it works, ISDN provides better voice quality than PSTN. However, even ISDN technology is becoming outdated.
It was once possible to utilise analogue PSTN connections for dial-up internet (remember those days?), but it was very slow and became obsolete in this capacity with the introduction of broadband internet services. ISDN was the go-to option for video conferencing and fast internet connections in days gone by, but it has now since been overtaken by more modern innovations, like fibre broadband.
So, now we've established what has gone before, the question is: what is going to replace these legacy connections after the switch-off? The answer is the internet.
So, What's Next?
With the rise of the internet and our increased expectations from our voice communication, the time has come to retire these older generation connections in favour of the next generation of voice solutions. This new generation is VoIP – Voice over Internet Protocol. It works by calls being made over the internet rather than via wires. Think of it as the Gen Z of communication technology. It is the youngest of the three connections we've mentioned, therefore its technology is more up to date and capable of meeting our voice solution demands. VoIP telephony (also known as IP telephony) is capable of providing more features, higher quality calls and more flexibility than traditional telephony – which is important now the world of business is embracing hybrid working!
The truth of the matter is that the PSTN (including both its analogue and ISDN lines) is just simply not cut out for modern technology – we respect and appreciate its service to the telecommunications world, but the time has come to say goodbye. Considering the setup and design of PSTN connections are pretty much the same as the original phone lines of the 1800s (with a few modifications to make them functional in the modern world), we're long overdue an upgrade and it is time to facilitate the communication needs of the 21st century.  Many businesses have already made the switch to IP telephony and are seeing the benefits. With the rise of people switching to VoIP phone systems, the demand for legacy PSTN connections has decreased over the last 10 years. Businesses are looking for more than simple phone calls. Due to the pandemic, the need for video calling, conference calls, international calls and the use internet-based communication applications, like Microsoft Teams and Zoom have increased and will continue to do so, therefore switching to IP telephony will facilitate this.
You have two main options to choose from when it comes to deciding on an IP telephony solution and those are SIP trunking or a hosted telephone solution.
What is SIP Trunking?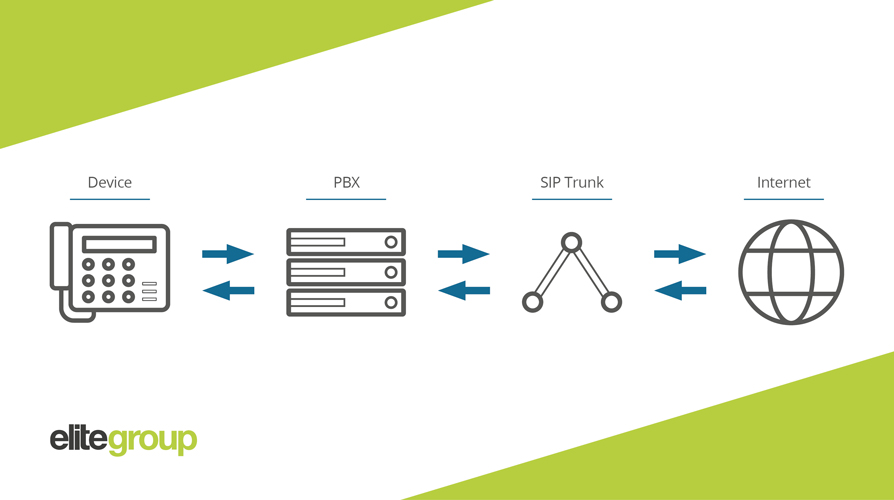 SIP (Session Initiation Protocol) Trunking allows you to make calls through your internet connection via your onsite PBX (Private Telephone Exchange). It works in a similar way to how you make calls on a PSTN line, but with an online twist. When you make a call using traditional telephony, the voice data goes from your onsite PBX to the PSTN line. In comparison, with SIP trunking, it will go from your PBX through your SIP trunk over your internet connection. Similarly when you receive a call it comes into the SIP trunk, through the PBX to your phone. Basically, the internet connection acts as the PSTN phone line. A key benefit of this solution is the fact that there are no physical phone lines to make or receive the calls and (in many cases) you can use your existing PBX infrastructure with your SIP trunk solution.
What is a Hosted Telephone System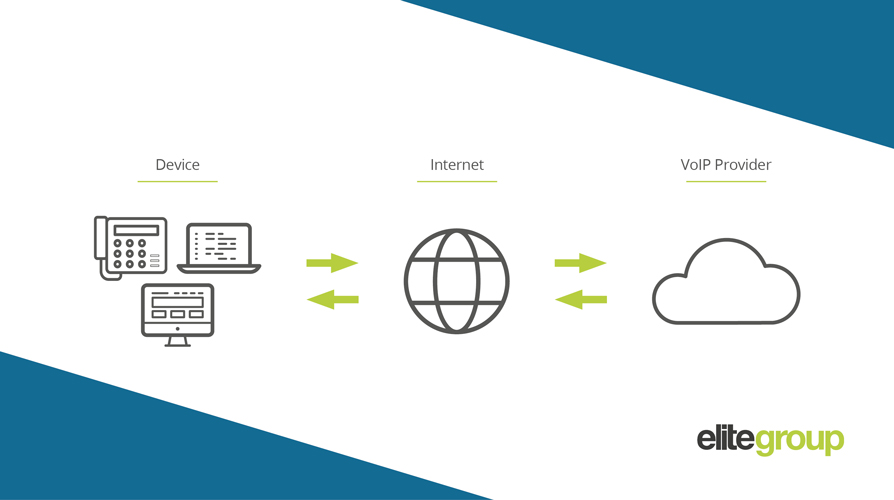 A hosted telephone system is a completely hosted, cloud-based solution. Unlike traditional PBX, it requires no physical hardware to make, receive or manage your voice communication system, other than your handset. Setup is really simple, as it is a plug-and-play system – simply connect your handset to the internet and away you go. Another benefit of a hosted telephone system is that it can be completely customised to your business needs and easily scaled. Simply add more users to your contract and purchase more handsets if required. The flexible setup of this solution means it can be used pretty much anywhere with plug-and-play handsets and the ability to turn laptops, tablets and PCs into 'softphones'.
Who Does the Switch-Off Affect?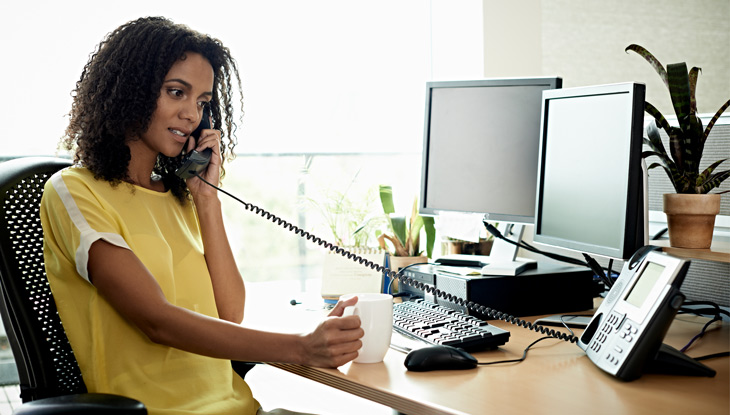 According to Ofcom, there are 2 million businesses that are still using PSTN connections – so if you're one of those 2 million, you're doing the right thing by reading up on the switch-off and planning how your business is going to adapt. Like we said before, this switch-off is gradual and is already underway – there isn't an engineer sitting by a massive switch ready to turn everything off in one go, so you have time…but not a lot of it! Now is a really good opportunity to start weighing up your options and deciding which solution is best for you and how you're going to successfully implement it within your business. This will give you plenty of time for your business to transition to the new system and make the most out of its features.
So now we've covered pretty much everything you need to know about the PSTN, the switch-off and your potential options, let's jump into the 5 steps that are going to make your transition to IP telephony a breeze. Ready? Let's go!
1)     Check Your Internet Connection
This is the most important step before you do anything else – hence it's number 1! Once you've made the switch to IP telephony, your calls will be made over the internet, therefore your call quality will be determined by the quality of your internet connection. Furthermore, if you're thinking of using a hosted phone system, it is going to include cloud applications which are heavily reliant on high-quality internet connectivity. Poor voice quality and buffering video calls are going to be two irritating symptoms if your bandwidth and connection speed isn't up to the job. This is going to have a heavy impact on your business's communications, which is going to frustrate your team and your customers aren't going to be particularly chuffed with this either! Rather than trying to improve your connectivity after the event, audit it now and sort out any issues before investing in your new IP voice solution. Finally, the internet is transforming businesses and the way we communicate and its impact is only going to grow, so when analysing your connectivity, ensure that it isn't just suitable for today, but for the future. Will it be capable of handling other programmes, applications or capabilities facilitated by the Internet of Things? If so, better to sort this now than later.
2)     Choose Your Solution
Now you've analysed how effective your connectivity is, the time has come to pick your solution. Which is going to be best for your business? The answer is whichever is better for your business's needs. You will need to analyse your business, how you currently use your phone system and how you plan to use it in the future, as well as evaluate the benefits and drawbacks of potential solutions. To get you started, here is a quick comparison of SIP trunking and hosted phone systems.
Sip Trunking vs Hosted Phone Systems
One of the biggest factors you may have to consider when picking your IP voice solution is the degree of control you'll want over your solution. With a hosted phone system, the provider will maintain a higher level of control, which is great from a maintenance point of view as your provider will be responsible for it. Furthermore, there is a lot of scope for customisation to personalise your solution for your business. Installation is a simple process with minimal onsite equipment. However, the first drawback is the connection quality of a hosted telephone system. As the provider has a high level of control, the quality of the solution will depend largely on the consistency of your provider's connection. Furthermore, the range of features and add-ons available to you will vary from provider to provider, so this is a key point to analyse when researching providers. In comparison, although in some cases it can be a more expensive option than a hosted telephone system, SIP trunking can offer a higher degree of control. You can maintain your current PBX equipment and use an analogue adapter or a SIP-to-T1 gateway to reduce costs. Regarding maintenance, you will be responsible for adding users and other personalisation. Both SIP trunking and hosted phone systems have plenty of scope for scalability, though it may be argued that with the plug-and-play set up of hosted phone systems and easy contract management, it is an easier process.
3)     Consider Your Hardware
Switching to VoIP telephony doesn't necessarily mean you have to swap out all of your handsets and buy a completely new set. It is possible to convert some legacy handsets with an adapter, meaning you can continue to use the same hardware and reduce costs. However this isn't the case with all handsets and if this is the case with your business, it can be a good idea to analyse the hardware you've got and how your team uses it. With the 'softphone' capabilities provided by VoIP telephony, you will be able to use devices such as laptops, tablets and PCs to make calls, removing the need for every member of your team to have access to a desk phone. Furthermore, if you're implementing hybrid or flexible working, this may also cut down the amount of handsets your company needs. Your team may simply need an application on their devices to turn them into a 'softphone' and an IP headset to make calls. Alternatively, after analysing your handsets, you may discover that your team will benefit from a combination of VoIP desk phones and 'softphones'. At the end of the day your business's needs are unique, so make sure you take the time to investigate the amount and type of handsets your team actually requires. Not only will this save you money, it will make sure that your team maximises the benefits of your IP telephony solution.
4)     Research, research, research
Once you've analysed the type of solution and hardware that your business needs and you've figured out the best way to solve any connectivity issues, the next step is to research and compare providers and technology to bring your solution to life. As we mentioned before, features differ from provider to provider, as do contract terms and lengths, connection quality and handset capabilities, so taking a little time to research and ask different providers about their products is vital to ensure you're getting the best deal. Once you've decided on a solution, again, line it up with the needs of your business to ensure that it will fulfil them.
5)     Get Your Team Involved
As with many business changes, training is fundamental, however encouraging your team to be excited and enthusiastic about your solution is also important. Now, you may be thinking how exciting can you make a telephone system seem? At the end of the day, the whole point of technological advances, like VoIP telephony is to not only make aspects of business easier, but better. Firstly, make sure you know everything there is to know about your solution from its benefits to basic troubleshooting. Your provider may be able to provide a training session to show you the ropes of your new solution.
Once your clued up, take time to sit your team down and go through the new voice solution with them. Make sure your presentation includes:
What it is
How it works
The range of features and capabilities
How the features and capabilities will help them in their role
The more your team knows, the better they can take advantage of your new system's benefits. Ultimately, you don't want your team to just simply use the solution – you want to make sure that they are making the most of it. The more they know about the solution, the better it will benefit them. Make sure that they are aware of any common errors, basic troubleshooting that they will be responsible for and what to do if they encounter an issue that they can't solve or do not have the authority to solve. Ensure they are aware on how to use the solution properly and outline what constitutes 'proper' and 'improper' use in your policies.
Changing to an internet-based solution, is more than just a quick fix to avoid complications caused by the switch-off. Your new phone system will present your team with new features and possibilities that will benefit your business and its communication both now and in the future. It may allow you to implement new ways of working and take advantage of mobile applications. Embrace the change and ensure your business makes the most of the solution.
Make the Switch with Elite
At Elite, we have everything you need to make the switch from IPSTN to IP telephony. From hosted phone systems and SIP trunking to handsets, you'll find a range of solution options. We have an expert team on hand who take the time to get to know your business and its needs, to help you find the perfect solution without the hassle and support you throughout the process, including implementation of your solution – this is the Elite difference. We can even connect your solution to applications such as Microsoft Teams. Whatever you need to make the switch we can provide the solution with top-class products and unbeatable support.
Elite Group is one of the UK's leading unified communication providers, supplying reliable and professional IT and unified communication services to organisations seeking Business Mobile, Cloud, Networking, Connectivity, and Telephony solutions.
For more information on how Elite Group can power your unified communication solutions,  call us or request a quote today.