January 11 2023
What is SIP Trunking?
Like many businesses, you may be looking to move your communications away from analogue and into the digital age. The traditional PSTN (Public Switched Telephone Network), is the analogue system that will be switched off by 2025 to make way for internet-based communications (VoIP) going forward. Gaining an understanding of VoIP technology and solutions, like SIP trunking, is vital for all businesses looking to move their communications to being delivered by via the internet in preparation for the switch-off.
How Does SIP Trunking Work?
SIP (Session Initiation Protocol) is an application protocol that allows you to switch to VoIP communications by running your business phone system over the internet rather than relying on traditional copper telephone lines. SIP trunking enables an on-premise phone system to send and recieve VoIP communication by connecting your PBX to the internet for digital communications and away from copper lines.
This technology works by breaking down voice, text and video calls into data packages that are then transported over the network via the internet and then pieced back together, ready for the recipient to receive. In a nutshell, with SIP trunks, the physical infrastructure that once supported a business phone system is now replaced with a virtual one that is capable of transporting larger volumes of data compared with analogue telephony, therefore capable of supporting the demands of modern day telephony.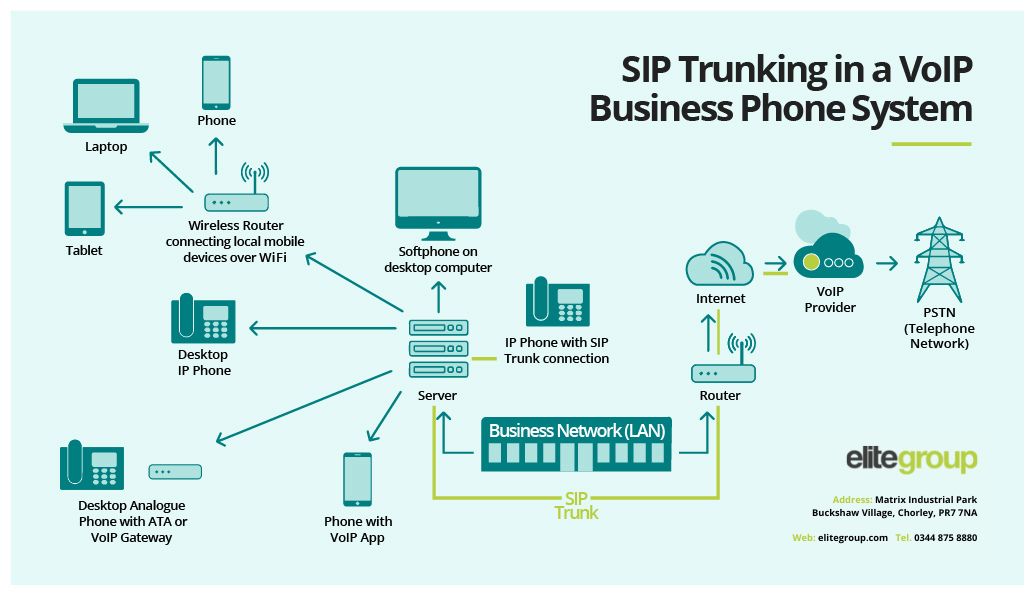 What is SIP Trunking Used For?
Within traditional telephony, PRI (Primary Rate Interface) technology has been used to deliver voice and data via physical copper lines for decades. This tecnology is basically a group of analogue lines put together and is expensive to maintain, as the hardware involved is becoming outdated and no longer fit for purpose. SIP trunking is designed to replace this legacy technology for a solution that is more cost effective, supports the move to VoIP communication and supports other data like instant messaging and video conferencing.
How Much Does SIP Trunking Cost?
Specific costs will differ, depending on the provider you choose, but we can break down the costs of each component within your SIP trunking setup to give you an idea of both startup and ongoing costs you can expect.
Internet Connection
If your current broadband package is capable of supporting your SIP trunk solution, then this will just be an existing, ongoing costs that doesn't have to change. However, if your broadband is not currently up to the task, then an upgraded broadband package will be required, which will incur an increased cost that will need to be considered before installing a SIP solution.
SIP-compatible PBX Box
If you have an older PBX system that isn't SIP-compatible, then you may need to invest in a SIP-ISDN gateway before you can implement the SIP trunk within your business. This could incur an extra cost on top of your SIP solution.
VoIP Phone or VoIP Adapters
If you already possess VoIP-compatible desk phones then this is a startup cost that you can avoid. However, if your busienss is still reliant on legacy PSTN-only desk phones then you will need to factor in the cost of either VoIP adapters or a new fleet of VoIP desk phones, if your current phones do not have the ability to be adapted.
Network Connection
Paying for your VoIP connection through a provider is an ongoing cost that you will need to factor in to your new solution. This cost will usually be on a monthly basis and, in many cases, is cheaper than the cost of legacy, on-premise solutions.
Benefits of SIP Trunking
So, now we've covered how the solution works, it's time to get down to what you really want to know – how will SIP trunking benefit your business?
How Can SIP Trunking Save Money?
With on-premise solutions, you have to factor in the cost of international calls, the time and cost of installing new physical lines or overspending on lines you don't use, as well as the cost of maintaining your equipment and expensive downtime, should you encounter an issue.
In comparison, SIP trunking is usually charged on a per-user basis, so you will only be paying for what you use. This means you're not overspending for lines you aren't using and bills are easier to manage with a predictable monthly cost. Maintenance and support is much more simple and quicker, compared with PSTN phone systems, which saves you both time and money, should something go wrong. In some cases, if your infrastructure and devices are already SIP-compatible, then you will save money through not having to pay for new hardware.
Simple Scalability for Growing Businesses
When your business grows, you need a communication solution that can scale easily and quickly, when required. With SIP trunking, you will be able to consolidate your communciations across multiple channels and offices into one network, which you can easily add or remove lines to whenever you need, without having to wait for new infrastructure of complicated installation processes.
Reliable Technology Bolstering Business Continuity
Storms, construction and natrual disasters all have the power to disrupt traditional telephony and bring your business to a standstill. SIP trunking fuelling VOIP telephony means better reliability, as it is more durable thanks to calls being transferred over the internet rather than through copper lines that are vulnerable to the elements. If you do run into an issue with your on-premise technology, calls can be routed to other lines, offices or mobile devices, so your business communications can continue without interruptions.
What's the Difference Between SIP Trunking and VoIP?
SIP, VoIP – we're working with a lot of acronyms here, so confusion with this understandable. The fact that they both relate to internet telephony can also cause further confusion – so let's clear that up!
VoIP: Voice over Internet Protocol refers to any phone call that is made via the internet rather than traditional physical telephone lines.
SIP: Session Initiation Protocol is a specific protocol that facilitates VoIP – in other words SIP is the technology that allows you to utilise VoIP technology.
Choosing Between SIP Trunk Providers
The first key step in choosing a provider for any solution within your business is research. Research how you use your current solutions, your needs and how a SIP trunk solution needs to facilitate your business. Next, you need to do your research on potential SIP trunk providers. Here are some key considerations to help your research:
Coverage: can the provider cover the areas in which your business operates?
Support: what are their support SLAs should something go wrong with your solution?
Price: what are the upfront and ongoing costs associated with the provider?
Security: what security protocols and data protection measures does the provider implement?
Resilience: a good provider will have clear monitoring of solutions to see issues and alerts in real-time
Bring Your Business into the Digital Age with Elite Group
Now you have an understanding of SIP trunks and what they can do for your business, why not talk to one of our specialists today to find out how our SIP trunk solutions can future-proof your communications? From rapid deployment, which allows you to start taking advantage of your new solution, quickly, with minimal disruption to your business to an efficient customer support team who get to work solving your queries and troubleshooting issues fast to keep your business moving – working with us means you have access to an expert provider who will help yoiu to get the most out of your SIP trunk solution.
Ready to level up your communications with SIP trunk solutions from Elite Group? Contact us here.