The benefits for businesses utilising teams talk and direct routing.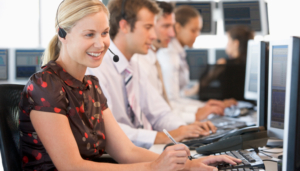 Businesses need every advantage they can get in the modern world of competition and communications. With customer experience starting to influence their purchasing decisions, the need for a communications solution that enables improved experiences is a must.  
86% of buyers are willing to pay more for a great customer experience. 
Keeping up with customer demands and the experience they have when communicating with your business has always been a challenge. How does Teams Talk improve your ability to service customers in a way that will keep them coming back? 
73% of buyers point to customer experience as an important factor in purchasing decisions. 
There are numerous reasons to deploy Teams Talk as part of your communications strategy but here are the top 5. 
1.CONTINUITY
Continuity throughout your business communications system is a must to enable smooth customer connections. Direct routing allows for centralised phone number management, which helps businesses control and administer continuity. This is essential if you have multiple geographic locations such as more than one office and a remote workforce. Having direct routing as part of your voice strategy means that no matter where your staff are calling from end–users see the one phone number and vice versa, incoming calls only need to contact one number no matter where your staff are. You can also allocate multiple numbers for different departments, offices etc or you may even need to assign an international phone number. 
2.EXPENDITURE
Teams Talk with Elite Group has three options allowing for 'pay as you go' or included minutes so you can maintain control over your voice communication costs.  All tiers have a variety of features that improve communications compared to traditional standalone voice services. 
Teams Talk 
A simple 'pay as you go' solution for those with minimal voice requirements. 
Teams Talk Pro 
Inclusive bundled minutes and analytics tools for a more advanced communication solution. 
Tams Talk Premium 
All the features of Teams Talk Pro with the addition of call recording capabilities. 
3.COLLABORATION
Collaboration is now an essential part of any good business comms systems. Collaboration allows for greater efficiencies within your company promoting improved teamwork and outcomes. 
Microsoft Teams has, without doubt, revolutionised the way you can collaborate and now that Elite has created Teams Talk the revolution is even better. If you are serious about improved business performance, then this application is for you. Productivity through collaboration is the future for many businesses and those that take on united platforms see the benefits through greater efficiencies and improved employee engagement. 
For more information on the features and benefits of Microsoft Teams and 365 take a look here. 
4.QUALITY CONTROL
Quality control is another reason to deploy direct routing. Direct routing, through Teams Talk, gives businesses the ability to manage the analytics of inbound and outbound calls as well as recording functionalities, depending on the option you choose. Without direct routing, you lose the ability to analyse your business productivity and efficiency. 
You can monitor and improve customer experiences via the features within Teams Talk allowing for improved business practices, staff training and more. 
5.REMOTE WORKING
Remote working has become the new normal for many businesses, however, a unified communication system is needed to maintain a business-as-usual approach. With Teams Talk remote staff can communicate the same as if they were in the office, the only thing required is an internet connection. The flexibility this allows for businesses and staff alike allows for greater adaptivity with improved stability for employees. There is no need for customers to know where staff are if they are getting the same service no matter what is happening internally within a business. 
Teams Talk, from Elite Group, unlocks the full potential of Microsoft Teams by enabling feature–rich voice services in a simple price per user model. Teams Talk unites many features associated with traditional voice platforms into Microsoft Teams, giving businesses one tool for all internal and external collaboration and communication needs. 
Teams Talk has been developed by Elite Group to offer an affordable Unified Communications option for SMEs wanting an improved solution allowing them to compete. If your business is looking for a flexible and cost-effective way to improve your productivity and customer experience give our team a call today. 
Take advantage of the latest teams talk offer, get a FREE install with any 36 month contract until the end of April. 
Elite Group is one of the UK's leading unified communication providers, supplying reliable and professional IT and telecoms services to organisations seeking Business Mobile, Cloud, Networking, Connectivity, and Telephony solutions.  
For more information on how Elite Group can power your unified communication solutions, call us or request a quote today