Elite Group is delighted to announce that we have successfully achieved Cisco Premier Integrator Status in the global technology giant's new partner programme.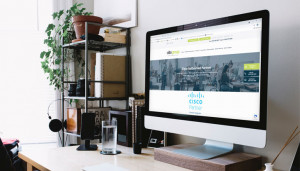 Cisco uses a variety of robust performance and skillset tests and assurance parameters to determine the suitability of organisations to receive Premier Integrator status. Achieving this accolade is testament to the skills, knowledge and experience of our team and shines a light on how highly we are regarded within the technology industry.
What's in it for you?
Elite has been deploying and managing Cisco-based solutions for many years including firewalls, advanced networking, security solutions, Wi-Fi and hyperconverged computing. This stamp-of-approval from Cisco is a major boost for Elite Group's customers.
The Integrator accolade allows Elite to drive the customer benefit to the next level with even more innovative solutions and smarter deployment of technology for organisations. Cisco Integrators, such as Elite Group, are recognised as:
Industry-leaders in creating customised solutions
Having the specilisations and certifications required to deliver such solutions
Providing the required Pre-Sales and Post-Sales support based on Cisco Partner Support Agreement criteria
Being a Cisco Integrator tangibly demonstrates that Elite Group's consultants and engineers are trusted advisors who are capable of solving complex business technology and communications problems.  Elite Group's consultants take the time to get to know your business and its requirements in order to supply a solution that is tailor-made to your needs.
We deliver fully unified IT and Communications solutions ensuring contracts are easier to manage and business systems are aligned and simplified.  Essentially, we bring together all the technologies businesses need into one, reliable system, thus minimising hassle for our customers whilst ensuring expert support is available whenever and wherever needed.
Looking to improve your business or communications technology? Speak to one of our friendly team members today – we are good listeners and are here to help.  We will steer you in the right direction to enable your organisation to harness the latest technologies and transform your business for the better.  
Elite Group is one of the UK's leading unified communications providers, supplying reliable and professional IT and unified communications services to organisations seeking complete technology solutions including IT Infrastructure, Cloud Solutions, Networking, Connectivity, Business Mobile and Telephony.
For more information on how Elite Group can power your unified communication solutions,  call us or request a quote today.