Communication within a business is absolutely vital. From employees effectively collaborating together to ensuring customers are kept in the loop, communication is the fuel that ensures your business processes run smoothly.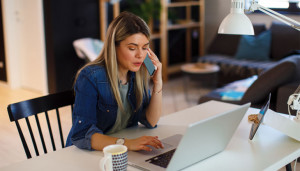 The importance of communication technology became apparent during the pandemic. Companies that hadn't previously allowed employees to work from home had to ensure that they were equipped with effective communication tools in order for business to continue. It is clear that remote working is here to stay, with many businesses planning on offering permanent remote working and hybrid working policies post-pandemic. By taking advantage of modern communication tools, businesses can offer more flexible working arrangements without sacrificing productivity or communication. At Elite, we understand how important it is for a business to stay connected. It is in our interest to know how to utilise modern communication technology, not only to help our customers with their communication solutions, but to facilitate our own business communication.
So, let's jump in and find out how you can make the most of modern communication technology to transform your workspace.
2020 – Workplace Transformation
It is clear that the pandemic has been a turning point for modern business. A recent YouGov survey found that 67% of UK employees had never worked from home prior to the pandemic. Worries that productivity would decrease and a lack of investment in relevant technology to facilitate homeworking are just two factors that could have been responsible for this statistic. How can a team effectively communicate if they are not in the same workspace? How can projects be completed if teams can't physically work together? Many of these questions were answered when businesses simply had to work remotely in order to continue operating. A year on, businesses and their employees have had the opportunity to discover the advantages of home working – from improved morale to increased productivity. Regularly using cloud-based communication applications, such as Microsoft Teams and video-calling services like Zoom, to interact with colleagues and customers has become the norm. Furthermore, studies have shown that 57% of workers want to continue having the flexibility to work from home in some capacity, with 18% wanting to work remotely full time and 39% looking for hybrid working options. Of course, working in an office space does have its advantages and it is true that some projects just simply can't be completed as effectively at home compared to the office, but for the majority of cases, remote working is both a possible and advantageous choice. The last 12 months have proven that a 'workspace' no longer needs to be in an office building. With adaptable communication solutions, employees can be productive and collaborate with peers wherever they have a stable internet connection.
Cloud-Based Phone Systems – All-In-One Voice Solution
A cloud-based phone system is an internet-based voice system, such as Microsoft Teams, that allows calls to be made via an internet connection and also has the ability to safely store data from those calls. One of the biggest advantages of cloud-based telephony is the scalability. It is a future-proof communication solution that can easily evolve with your company. As it is connected to the internet rather than a fixed line, the potential for expansion is so much easier and cost-effective compared to traditional telephony. Cloud phone systems are also available on a range of devices, including:
A VoIP adapted phone
A computer/laptop (also known as a 'soft phone')
Mobile devices
Plug and play VoIP phones
Another really important advantage of cloud-based phone systems is that they can provide a cheaper alternative to traditional voice calls. Contracts usually involve a fixed charge, rather than a pay-per-minute contract that can incur extra costs for phoning specific numbers, such as international and premium numbers. Avoiding bill shock for your business communication is always an advantage! Furthermore, programmes that facilitate internet calls can contain beneficial attributes, such as a 'presence' feature, which allows users to view who is online, out of the office, available to talk or away from their desk. They also have the ability to record calls which can be important for collaboration between employees and great for training purposes. Cloud-based voice services also allow you manage calls in order to distribute workload effectively amongst your staff, monitor call volume and the speed in which customer calls are dealt with. Implementing a cloud-based phone system can unify your devices, which is really useful for those implementing remote or hybrid working. They can allow employees to transfer calls from different devices, allowing the freedom to take calls wherever is convenient, whether it is a desk phone, mobile or laptop. Finally, as this communication is cloud-based, it has the ability to safely store data, providing peace of mind that your call data, servers, emails and virtual platforms are all protected should disaster strike.
Video Calling – Connect and Collaborate Anywhere
It's safe to say that everybody has become an expert in video calls during this pandemic. Whether it's to hold meetings with colleagues and clients or call family and friends during lockdown, video calling has been a really useful tool that has kept us connected. From a business perspective, the way we conduct meetings will never be the same now we know the true potential of video calling and hosting meetings virtually. Unlike traditional phone calls or voice conference calls, video calling and virtual meetings have a more personal feel despite distance. It has allowed employees to chat and work together with colleagues and prevent feelings of isolation. It also means that meetings with people, such as clients or suppliers, who are based in a different part of the country or overseas are more accessible. There are a lot of different video calling platforms available with more applications likely to be developed in the near future, so how do you choose the best one for your business? Essentially, video calls and meetings will be replacing their in-person counterparts, so the biggest factor to consider is the features your team will require to conduct meetings as they normally would. Tools such as screen sharing to display presentations or documents and instant messaging are particularly important for collaboration, so it is advisable that you pick a video-calling platform that includes them. Finally, a platform that is available to use on a variety of devices, including mobile, is a particular advantage, as it means your business can stay connected no matter where your team and clients are.
Business Mobile – A Desk Phone In Your Pocket
Nowadays, there isn't a great deal that you can't do from a smartphone. With a variety of productivity and communication apps available, whether you're on the train commuting to work, working from home or making a brew in the office, you have all the tools to complete many business tasks in the palm of your hand. Similarly, smartphone applications can essentially turn your mobile phone into a fully functional IP phone, which is, essentially, like carrying your desk phone around in your pocket. It also gives you the ability to unify your business communication devices by twinning your mobile with your desk phone, so you can access your contacts anywhere and communicate with both clients and staff, as you would from your office phone.  It is also possible to redirect calls from your office phone to your mobile. A useful feature for when that important business call comes through and you're working from home or out and about.
A Day In the Life With Modern Communication Tools
Now we've explored the range of communication tools that are now available to us, let's take a look at how we can put them into practice and what the average working day could be like whilst working from home and staying connected.
Morning
Whilst you're waiting for your morning coffee to brew, you check over your messages from Microsoft Teams. You notice a message from a colleague with a question about a current project, so while you let the dog out and pop some bread in the toaster, you hop on a quick call with them to clarify some information. After you log in to your work laptop, you join your scheduled video call with your manager to go through an important presentation that is going to be shown to the board of directors this afternoon. Through the ability to share your screen, the two of you can collaborate effectively on the presentation, despite the fact that you are working from home and your manager is in the office. After a productive few hours, it's time to take a break. You change the 'presence feature' on your cloud-based phone system to show you are unavailable and you proceed to grab some food, walk the dog and prepare yourself for this afternoon's presentation to the board.
Afternoon
The time has come to present your hard work to the board of directors. The team meeting is recorded within the platform, so it can be distributed to the attendees for their reference, following the presentation. Within the video-calling platform, there is the ability to utilise instant message which is really useful for the Q & A session at the end of the presentation. You also have the ability to mute those present, so your message is conveyed effectively, and you can provide the opportunity for everyone to have their say by inviting them to individually unmute themselves when required. Whilst grabbing a celebratory brew and a biscuit, a client rings your office number, which is redirected to your business mobile and you are able to solve a problem with their contract quickly and easily. The end of the day arrives and you receive a message from a colleague who is feeling a little overwhelmed. Despite the distance between you, you grab a brew and jump on a video call for a quick catch-up before the end of the day.
Transform Your Business Communication With Elite
At Elite, we understand how vital effective communication is,  both inside and outside of the office. Teams that are connected are not only more productive, but they feel supported knowing that help or a friendly face is only a click away. This is especially important for employees who are working remotely. With an array of communication solutions and an expert team who can suggest the best products and services for your needs, Elite can help to transform your business communication and make the most out of modern communication tools. Speak to us today, to see how Elite can keep your team connected wherever they are.
Elite Group is one of the UK's leading unified communication providers, supplying reliable and professional IT and telecoms services to organisations seeking Business Mobile, Cloud, Networking, Connectivity, and Telephony solutions. 
For more information on how Elite Group can power your unified communication solutions,  call us or request a quote today.