The Latest Features In Teams – Pushing Collaboration And Communication To The Next Level.
Since its inception, Microsoft Teams has revolutionised the way we communicate and collaborate, allowing a plethora of features to enhance everything we do in the workplace. Ongoing improvements are being delivered all the time, so let's take a look at some of the existing and up-coming features.
Together Mode
Together mode is a new meeting experience in Teams that uses AI segmentation technology to digitally place participants in a shared background, making it feel like you're sitting in the same room with everyone else. Together mode makes meetings more engaging, helping you focus on other people's faces and body language. It's excellent for meetings in which multiple people will speak, such as collaborative sessions or roundtable discussions, because it makes it easier for participants to understand who is talking. Together mode with auditorium view is rolling out now and will be generally available in August.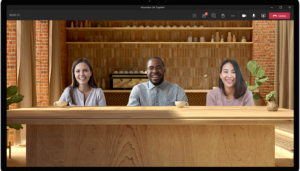 Dynamic View
A set of enhancements called dynamic view gives you more control over how you see shared content and other participants in meetings. Using AI, meetings dynamically optimise shared content and video participants. New controls—including the ability to show shared content and specific participants side-by-side—let you personalise the view to suit your preferences and needs. Dynamic view builds on the meeting enhancements that were announced last month, which include large gallery view (rolling out in August), where you can see video of up to 49 people in a meeting simultaneously, and virtual breakout rooms, which allow meeting organisers to split meeting participants into smaller groups for things like collaborative sessions or workgroup discussions.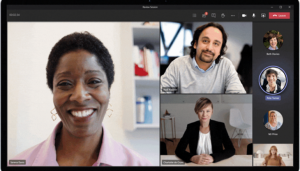 Video Filters
We've all become familiar with video filters used in photography and social media apps, and now we're bringing them to Teams. Before joining a meeting, you can use the filters to subtly adjust lighting levels and soften the focus of the camera to customise your appearance.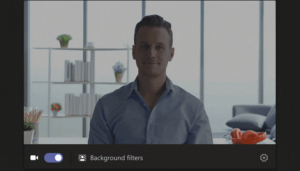 Live Reactions
Non-verbal cues like smiling and nodding can be difficult to notice during online meetings, making it challenging for presenters to gauge audience reactions and for participants in large meetings to share a sentiment without interrupting the meeting flow. Soon, you will be able to react during a meeting using emojis. Live reactions are a shared feature with PowerPoint Live Presentations, which allows audience members to provide instant feedback. PowerPoint Live Presentations will also be available to Teams in the future, further enabling audience engagement right in Teams.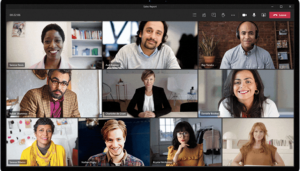 Live Captions And Transcripts
While Teams already provides live captions as a way to follow along with what is being said, soon speaker attribution will be added to captions so that everyone knows who is speaking. Live transcripts, coming later this year, provide another way to follow along with what has been said and who said it. After a meeting, the transcript file is automatically saved in a tab as part of the meeting.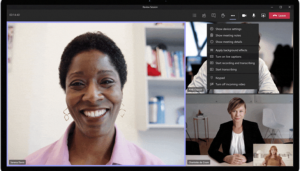 Microsoft Whiteboard
Visual collaboration tools make meetings more effective and inclusive. Whiteboard in Teams will soon be updated with new features including faster load times, sticky notes, text, and drag and drop capabilities. These features enable team members who don't have access to a touchscreen or Surface Hub to participate in whiteboarding sessions during Teams meetings.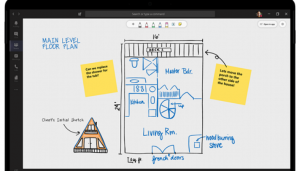 All the new and existing features in Teams, combined with Microsoft 365, are helping businesses improve efficiency and productivity through better collaboration, and implementing these solutions across your business can be further optimised with help from a Microsoft Gold Partner like Elite Group.
Our Gold Partnership Helping Uk Business
To achieve and maintain our Microsoft Gold status, our business invests heavily both in the training of our staff and harnessing the latest, innovative technology to support our customers.  We have many highly trained consultants who are experts in Microsoft 365.
Elite Group is therefore perfectly positioned to offer businesses a Microsoft 365 solution that is suited to every specific business need.  Our highly knowledgeable consultants have experience in integrating a wide range of Microsoft solutions into organisations to deliver tangible, measurable business benefits.
We are a Microsoft Gold Certified Partner in multiple competencies and are ranked in the top 1% worldwide of Microsoft Resellers.
To find out more about how Microsoft Teams can improve your business productivity and profitability talk to our highly knowledgeable team of consultants, who can help you seamlessly implement Teams and Microsoft 365 into your business.
For more information on how Elite Group can power your unified communication solutions, call us on 0333 060 9913 or request a quote today at www.elitegroup.com/contact/