In times gone by, offices – and offices alone – were where the work happened. But today, employees can work from pretty much anywhere.
Creating a more flexible working environment can lead to huge increases in productivity and employee satisfaction. And a hosted desktop solution makes doing so easier and safer than ever before.
Here's how your business can benefit from hosted desktop.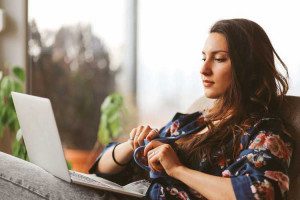 Increased Productivity
Many businesses are sceptical of remote working.
Understandably, business owners worry that employees will procrastinate and waste time if left to their own devices. This point of view stops many businesses from taking advantage of the technology that facilitates remote working.
In fact, all the evidence points in the opposite direction – and shows that implementing remote working can actually improve productivity levels.
This is primarily due to two things: businesses overestimating the amount of work their employees do in the office and underestimating the amount workers do at home.
According to Forbes, time-wasting in offices is now an epidemic.  Indeed, 31 percent of employees claim to waste at least one hour a day, 16 percent waste at least two hours a day and six percent waste at least three hours a day.
Even more alarming is the fact that many of the reasons cited for such large amounts of wasted time are only experienced in the office. These include distractions from noisy co-workers, gossiping, unnecessary meetings and unsolicited drop-byes.
Conversely, remote workers have been shown to be 13 percent more productive than their in-office counterparts. This is because, according to Tech.co, they regularly work more post-business hours (not so much of an issue when you don't have a commute), have less downtime and sick days and enjoy a dedicated, distraction-free working environment.
Higher Employee Engagement
Employee engagement – a metric which measures how much your employees care and are enthusiastic about your company – has become a big deal in recent years.
According to the Gallup Organisation, US companies lose between $450 and $550 billion to poor engagement. The company also reveals how a staggering 87 percent of global employees are not engaged.
The issues leading to such low employee engagement are complex and multi-faceted. However, by facilitating remote working, companies have be shown to dramatically increase their employee engagement levels.
The Gallup Organisation's paper on employee engagement also shows that employees that work from home 60 to 80 percent of the time have the highest levels of engagements.
This is likely due to employees feeling appreciative of their remote working arrangement – which makes taking parcels, dropping the kids off at school, doing the mail and a whole host of other day-to-day requirements easier than ever.
Because business/employee relationships are reciprocal ones, the more a business gives, often, the more employees value their position – which, ultimately, leads them to work harder.
Significant Cost Savings
Offices cost money to run. And the more people there are in an office, the more expensive they are.
As such, when businesses allow staff to work remotely, they often make significant savings. According to a Global Workplace report, nearly six out of 10 employers identify significant costs savings as a benefit of remote working.
To put it even more concretely, the report states that employers save an average of $£8,364 ($11,000) per half-time remote worker per year. Such savings quickly accumulate, and the total value of the savings companies enjoy due to remote working is likely to be in the billions.
Combined with the fact that remote workers are more productive and more engaged, having a significant amount of remote workers in a business can be a huge financial benefit to businesses.
A good hosted desktop provider will allow staff to access all relevant work documents and programs over the internet. This means that, no matter where they are, they can work efficiently and effectively.
By centralising data, a hosted desktop service will also lower IT operating costs and facilitate better inter-office collaboration (even between countries). And don't worry, a good hosted desktop solution keeps all of your files and data safe and secure – meaning you can enjoy the benefits of hosted desktop without worrying about making important digital assets vulnerable.
Elite Group is the leading unified communications and technology provider. We supply businesses with industry-leading hosted desktop services supported by our expert engineers and support team.